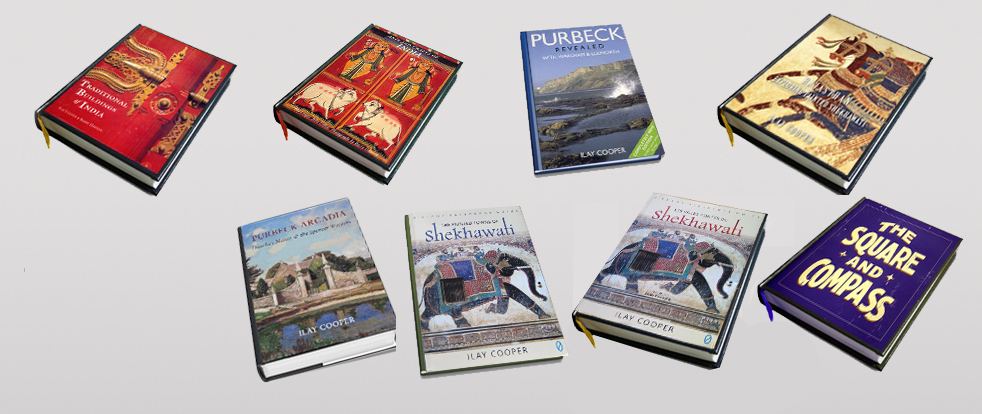 MY VILLAGE AND MY HOMELAND
a film by Jed Corbett
PUBLICATIONS
PURBECK:
BOOKS:
Purbeck Revealed , 2004, James Pembroke Publishing, Bath. Reprinted edited edition 2006. New, enlarged edition 2008.
The Square and Compass , 2007 Square and Compass Books, Worth Matravers.
ARTICLES ETC in:
'Proceedings of the Dorset Natural History and Archaeological Society', 'Purbeck People' (Purbeck's first, short-lived, free paper), 'Purbeck Gazette' and 'Purbeck!'
INDIA & PAKISTAN:
BOOKS:
'The Guide to Painted Towns of Shekhawati' 1987, pub. Arvind Sharma, Churu, led to an expanded edition, 'The Painted Towns of Shekhawati' 1994, Mapin. New, updated editions were published by Prakash Books in 2008 & 2017, the latter translated into French by Jean Pouvelle as 'Les Villes peintes du Shekhawati'. It remains the authorative work.
'Arts and Crafts of India' 1996, Thames and Hudson, London (with John Gillow). He motorcycled around India, researching and photographing for this book.
'Traditional Buildings of India' 1998, Thames and Hudson, London (photos: Barry Dawson & Ilay Cooper). He repeated the motorcycle circuit for research and photography.
'The Blue Guide to Northern India' was commissioned but not published. He spent three years travelling and researching for this project.
'Purbeck Arcadia. Dunshay Manor and the Spencer Watsons' Dovecote Press, Stanbridge 2015: The story of Dunshay, an English manor house, and the family of three artists who inhabited it.
'Havelis of Rajasthan' commissioned by short-lived India Book House, was taken up by Abhinav, which failed to publish it over a chaotic seven years.
'Rajasthan Exploring Painted Shekhawati' 2014 Niyogi Books, New Delhi. This richly illustrated book juxtaposes the journey of two British officers across Shekhawati in 1831, using their unpublished writing and drawings, with Rabu Sharma & Ilay's travels through the same area. One journey led to the other.
STORIES:
Ilay's versions of the Indian folk stories, Dhola-Maru and Binjo-Sayni, were read by Indira Joshi for the BBCTV children's programme Jackanory in 1982 and later repeated.
PAPERS, ARTICLES ETC:
After articles for Yatri, Indian Tourism Development Corporation's magazine, in 1973, Ilay supported his India work partly by photojournalism for Indian and British periodicals. His first articles specifically on Shekhawati's painted buildings appeared in Illustrated Weekly of India (July 1976) and New Delhi (December 1979). Many others followed, mostly in Indian journals.
Papers:
His academic work includes papers in the British journal, South Asian Studies and India's Marg :
"The Painted Walls of Churu, Jhunjhunu and Sikar Districts of Rajasthan" Vol II 1986;
"Man Singh to Maonda: Murals of North-East Rajasthan" Vol VIII 1992;
"Sikhs, Saints and Shadows of Angels: some Mughal Murals in Buildings along the North Wall of Lahore Fort" Vol IX 1993;
"Krishna and Rajas, Then a Surprise in the Bathroom: More Murals from Lahore Fort" XI 1995;
"Vijayanagar or Victoria? The Ceiling of the Virupaksha Temple at Hampi" Vol XIII 1997.
"Shekhawati's Architecture and the Building Boom" and "Painting the Towns: Shekhawati's Murals" in Marg Vol 65 No 1 2013
Photojournalism:
Ilay has written many illustrated articles for periodicals including (India) India Magazine, Outlook Traveller, Times of India, Indian Express, Illustrated Weekly of India, New Delhi, Namaskare, Swagat, Namaste, Marwar and Yatri. (UK) The Daily Telegraph, The Independent, Country Life, The Oldie.
Lectures:
Ilay has lectured on subcontinental murals at: (UK) The Victoria and Albert Museum, The British Museum, The Nehru Centre and The Courtauld Institute, all in London; The People's Palace, Glasgow; Dorset County Museum, Dorchester; (India) The India International Centre, New Delhi, The Faculty of Fine Arts, Baroda University; (Pakistan) Lahore College of Art and The British Council, Islamabad.
He has also travelled as an expert with groups visiting India, working for various companies.