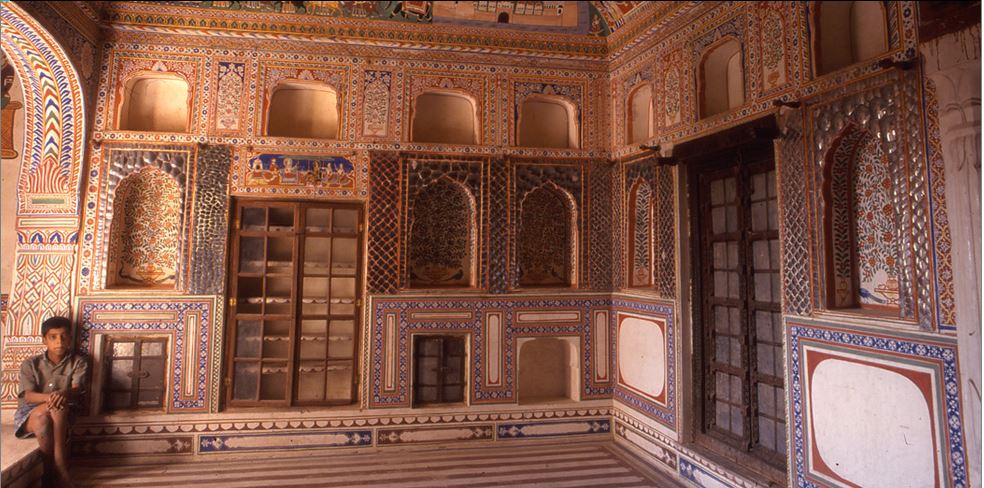 As a result of meeting a student on the train when leaving India, on his next trip in 1972, Ilay visited his village in Haryana. There, he bought a second hand bicycle, on which he set out for neighbouring Rajasthan, then crossed North India from Jaisalmer to Bodh Gaya in Bihar. In arid Churu district, he came upon the local merchants' mansions, havelis, each enclosing one or more courtyards, their walls covered with bright paintings. Later, he could find no illustrations of such painted houses and no one seemed aware of them.

In 1975, travelling through Churu district and neighbouring Shekhawati (Jhunjhunu and Sikar districts) with a camera, he found that such painted havelis were peculiar to small towns in those three districts. Murals also decorated the local temples, memorial cupolas, wells and caravansarais.
Ilay settled in Churu, partly because he made friends with Nand Kishor Chaudhary, a local shopkeeper. From there, he began to study the buildings, their background and their paintings. Indian and British libraries revealed the region's history and that of the Marwari merchant community, which now controls some 50% of India's industrial capital. Marwaris financed most of Shekhawati's fine buildings, but the earliest murals were funded by local barons and decorate late 17th and 18th century temples and memorials.

He was commissioned by the Indian National Trust for Art and Cultural Heritage (INTACH) to document the phenomenon and, aided by a local teacher, Ravindra Sharma, worked from 1985 to 1987, describing and photographing 2260 buildings. This survey was intended for publication, but sadly it is still not publicly available ouside INTACH's Delhi office. This hampers all further research.

During winter 1987-88, he was commissioned by INTACH to document the monuments of Diu, an erstwhile Portuguese enclave on Gujarat's coast. Here, aided by Bharat Patadia, he described and photographed 207 buildings.

As a result of his work and extensive travel though the region, he wrote, illustrated and drew the maps for THE PAINTED TOWNS OF SHEKHAWATI (Latest edition 2017, published in English and in French as 'LES VILLES PEINTES DU SHEKHAWATI' – see Publications), the classic work, now in its third edition. This was followed by richly illustrated RAJASTHAN EXPLORING PAINTED SHEKHAWATI (Niyogi Books 2014), describing 1830s and modern adventures in the region.